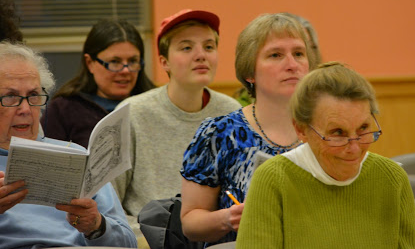 We invite you to learn more and to consider joining us. We are a community chorus of adult men and women of all ages. We usually have openings for women singers, and always for men. New members will find the Hampshire Choral Society to be a warm and welcoming family. Our rehearsals are both fun and productive.
If you have prior singing experience, can match pitch (i.e., carry a tune), and are willing to make the commitment to the entire season, you are probably a good fit with our group.
We hold open auditions for new singers. In many cases, we may waive the audition, depending on your experience. In other cases, we will arrange a date and time for you to meet with the director so he can hear you sing. As intimidating as this probably sounds, we assure you that the process is painless and user-friendly.
We recommend that you review the membership guidelines before joining us.
If you have questions, please write to this address.