This semester we will perform a major work: Rossini's Petite Messe solenelle. In addition, we will be performing a new composition by Clifton (Jerry) Noble, a setting of Dickinson's celebrated poem, Hope is the Thing with Feathers. Jerry is a dear friend and colleague, and he graciously offered to compose something for my final concert with HCS.
We'll face several challenges when learning the Rossini: it's long and complicated, there is some divisi, and his harmonic language is at times chromatic. I thought long and hard about whether we are ready to launch into such a big project, but I'm confident you will quickly come to love the music, and you'll sing it well. And a side note: it won't be quite as long a work as it looks, I'm making some cuts to bring us to my target length of about an hour. See below for details.
For those of you who were with us in the spring of 2020, please try to find your vocal score, that would be a big help. They're dark blue (see below). It will also save you $20.
Here is a link to a CD of a fine performance, using period instruments. You can also download an mp3 version for less money.
Here is a link to the Cyberbass study aids, and here is a link to the ChordPerfect study aids.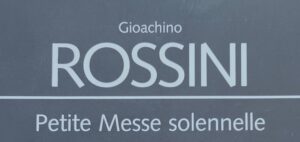 Sections we will NOT be performing:
Gloria: Qui tollis and Quoniam solos (p. 32 – 49)
Offertorium (p. 108 – 111)
[Sanctus (p. 112 – 115)] (maybe…still thinking about this)
O Salutaris (p. 116 – 121)